Custom Jewelry Design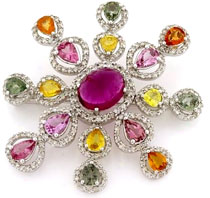 A custom jewelry design starts with an idea, a concept, a drawing, a magazine ad, or an internet picture. This step by step process leaves little to chance and results in the highest degree of customer satisfaction. Most custom design pieces are completed within seven to ten working days.
Fees and timelines are clearly established at the onset of the project. Many custom designs are executed through the use of three dimensional CAD software or hand-carved wax models.
This allows the customer to approve or make changes to the model before its final completion. The customer works hand in hand with the designer to insure the perfect outcome. Thinking of choosing a gemstone? Let us help you choose the perfect Gem.
We stock many fine quality gemstones, however, no matter how many stones we have, sometimes the best option is to let us find the perfect Gem for you. We learn your taste, budget & what it takes to wow you.
With any consultation, Online or In our Ohio Jewelry Design Studio, you can expect:
Timely, interactive information, ideas, estimates and design assistance from a jewelry artist
Effortless communication via phone, email or chat
Regular updates with pictures to follow the progress of your design
A unique and fun experience
Stone selection and advice to fit both your desires and budget
An accurate estimate of the completed project cost
Questions? Call us at (440) 461-9296 or via Web Form.

.